Little Yellow Bicycle
6 Britton Drive
Bloomfield, CT 06002
info@mylyb.com
tel 860-286-0244
fax 860-243-1856
CREATIVE TEAM
Dianne Scotton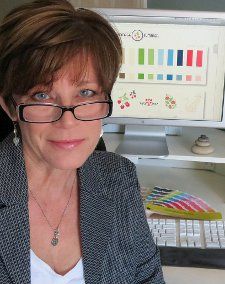 Dianne is a member of the Product Design Team at LYB. She is a graduate of Syracuse University's Communication Design program. Although a Bloomfield, CT native (where LYB is headquartered), Dianne spent the first 10 years of her career as an Art Director at an ad agency in upstate NY. She returned to CT in 1990 when she married.
Dianne first worked as a freelance designer for LYB's parent company, C-Thru Ruler, when her now-college-aged son was in diapers! Although her background is in corporate identity, brochure and catalog design, her creative abilities with color, pattern, and type made for a natural transition to scrapbooking product design. She was an assistant designer beginning with the Vita Bella collection in 2008, but is now a key designer on most LYB collections.
Dianne lives in Middletown, CT, with her husband, Tom, two tall teenage sons, and one devoted Australian Labradoodle named Sparky. She also has a recently married step-daughter - you can see her wedding photos on the SWOON Page Kit! Dianne enjoys yoga, reading, cooking, and forever redecorating her home. Free time is often spent with her large extended family (she is one of 8 siblings) and she enjoys off-season trips to Martha's Vineyard, or a balmy week on Sandbridge Beach in VA.
Although not a scrapbooker herself, Dianne vows to start....one day. But right now, there's too many papers and embellishments to be designed!